Dr. Karen Gunning Awarded the 2016 University of Utah Distinguished Teaching Award
Congratulations to Prof. Karen Gunning, BCACP, FCCP, Pharm.D., BCPS, has been selected to receive the 2016 University of Utah Distinguished Teaching Award.
Gunning, interim chair of pharmacotherapy, will receive the award at the general commencement ceremonies on Thursday, May 5.
The $5,000 award honors significant contributions to University's teaching mission made by faculty who have completed eight or more years of service. Recipients are nominated for outstanding teaching performance, implementing effective and innovative teaching methods, and demonstrating exceptional abilities to motivate student learning and to prepare them for a career.
"While I have learned much from her in the classroom, I have learned just as much from her outside of it," said one of Karen Gunning's students. "The more admirable feat is the sheer number of students she helps in similar ways."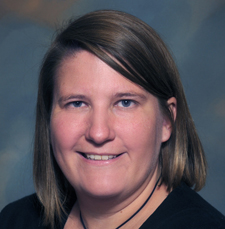 Gunning is a mentor in and outside the College of Pharmacy, and her influence is felt across multiple programs at the U. Through both didactic teaching and hands-on clinical training, Gunning exposes her students to the joy of helping others and instills the principle of lifelong learning.
She has expanded the reach and potential of the College of Pharmacy by teaching skills never before included in the curriculum and creating the U's ambulatory care pharmacy residency. Gunning has been course master of five courses and has taught several others for more than 10 years, all while co-authoring more than 25 peer-reviewed publications.
Generous with her time, Gunning serves in mentorship roles and committee leadership capacities. She has held many prominent positions, including serving as director of the Department of Family and Preventive Medicine's Family Medicine Grand Rounds.
Among many awards, Gunning is a three-time recipient of the Distinguished Teaching Award from the College of Pharmacy and two-time recipient of the Specialist Teacher of the Year by the Family Medicine Residents. She graduated summa cum laude from Oregon State University and earned a doctorate in pharmacy from the University of Utah.