Profiles in Pharmacy #1 - Benjamin Davies: Utah Poison Control Center
Ben Davies: Utah Poison Control Center
The mother on the phone is experiencing every parent's nightmare. Her child swallowed a pill from an adult prescription.
Ben Davies (PharmD, '18), a toxicology fellow at the Utah Poison Control Center (UPCC), is on the line. He asks for specifics and calmly explains that the child needs to be taken to the hospital.
"If she stops breathing, you need to pull over to the side of the road and call 911," says Davies, counseling the mom not to run any red lights.
Davies is reassuring. He promises to call back in 15 minutes to see what hospital the mother chooses. And then the conversation is over — one call of many on an average afternoon.
"On a day-to-day basis, we help each family — mother, father, child — one at a time," says Davies, 30, a recent College of Pharmacy graduate deepening his skills at the UPCC.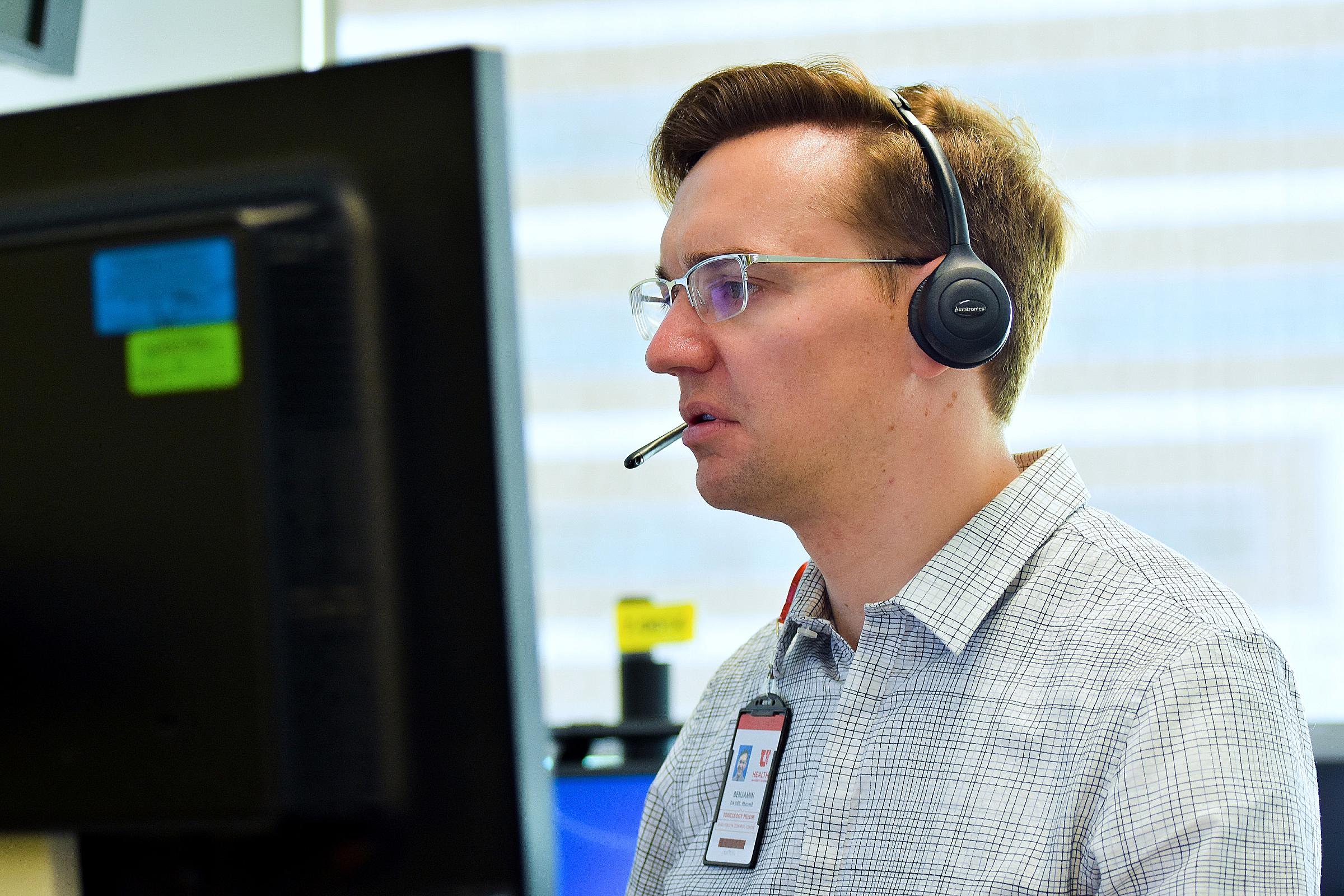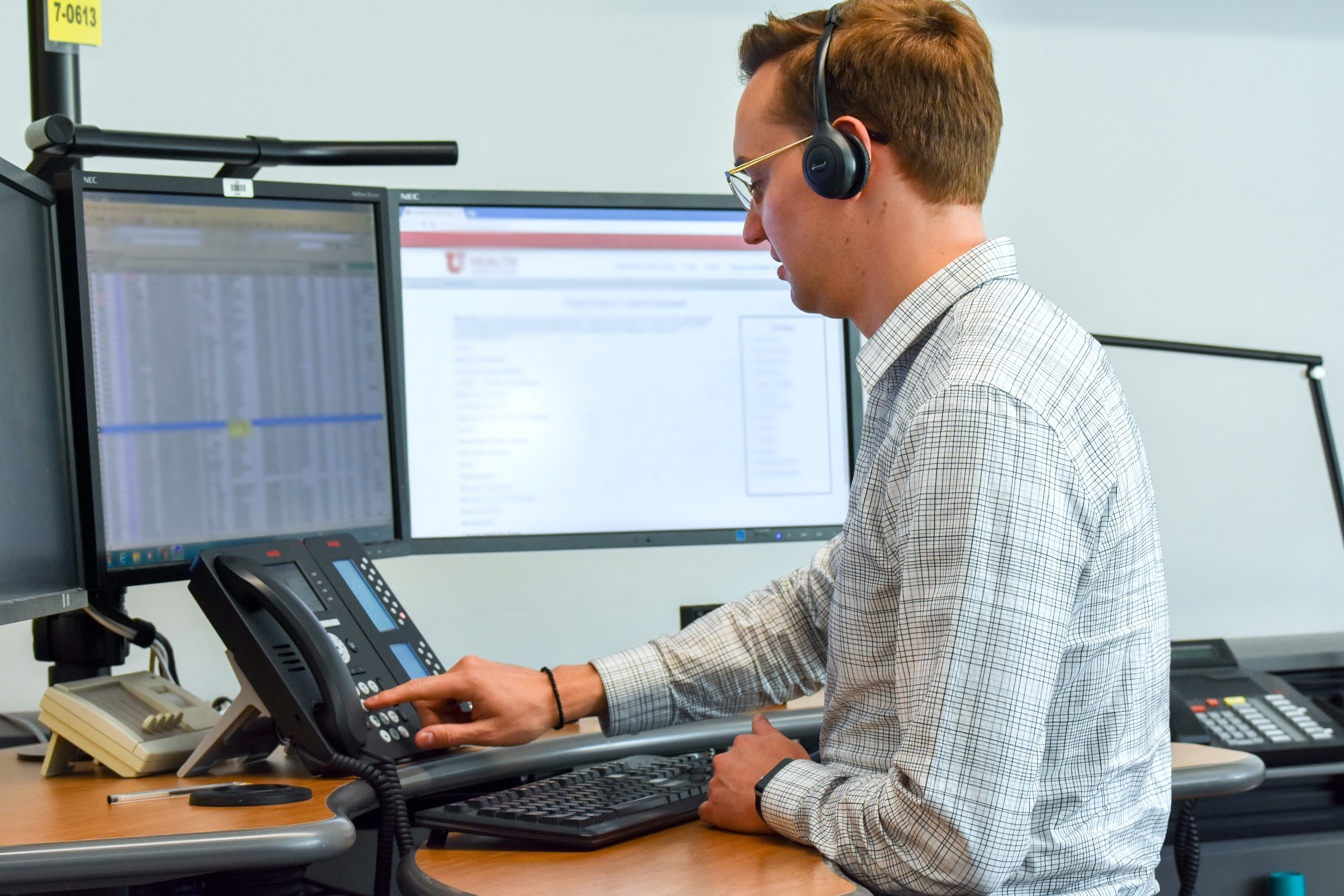 The Path to PharmD 
Most people assume a pharmacy degree leads to a career dispensing medication in a retail setting. While many alumni do follow that path, others like Davies know there are equally rewarding and challenging roles for pharmacists outside traditional settings.
Becoming a pharmacist wasn't something Davies dreamed of as a kid growing up in Spanish Fork. Like many ambitious students, he wanted to be a physician when he initially enrolled at Brigham Young University. But the freshman year pre-med classes didn't feel quite right.
It was during a trip to Cuba with BYU's musical theater group that he saw the prevalence of Farmacias — seemingly on every corner. People walked in and out getting the help they needed. 
"Right then on that bus in Havana I came to the conclusion that pharmacy was the kind of career I wanted to go into," Davies said. "Pharmacists are involved in people's lives and make meaningful impacts in people's lives."
Choosing Toxicology and Poison Control
At 18, Davies was diagnosed with a thyroid condition that required him to take daily medication. Unfortunately, neither his doctor nor the pharmacist taught him how to take the drug properly, but the drugs seemed to help anyway.
Two months later, however, follow-up bloodwork suggested the medication wasn't working. Doctors told him to stop taking it, and the symptoms returned—Davies experienced hair loss and frequently felt cold and tired.
"I remember begging my mom to take me back to the doctor to get me another blood test. Sure enough they said I needed to get back on the medication," he said. "We have all these wonderful pharmaceuticals and medications in the world, but if you don't know how to take them properly you can have adverse reactions, effects, or lack of efficacy."
But even Davies didn't realize pharmacists worked at Poison Control until he began researching pharmacy schools across the country. In Utah, trained pharmacists answer the phones, provide education throughout the state, and assist health care teams after individuals go to the hospital. They also collaborate with government bodies to track epidemics and health crises from hepatitis outbreaks to the impacts of freshwater algal blooms.
The UPCC handles an average of 118 calls per day—operating 24 hours a day, every day of the year. Children under six, especially those between one and two years old, make up the majority of exposures. Those children have primarily been exposed at home to cosmetics, personal care products, and household cleaning substances.
A six-year study of calls in Utah found that more than 14,400 emergency room visits were prevented annually through the assistance of UPCC staff, saving Utahans up to $24.4 million in unneeded medical costs each year.
A Great Future
Davies is in the first of his two-year fellowship, a position he earned after working at UPCC while pursuing his PharmD degree. He will participate in a series of rotations at other locations, including University Hospital's emergency department and the ICU at Primary Children's Hospital.
After the fellowship, Davies will take a test to become a clinical toxicologist. This will allow him to manage more critical cases and pursue upper level administration in poison centers. He envisions himself using his training to work in Utah or at a poison control center in another state.
"I really like educating," he says.