Profiles in Pharmacy #2 - Cole Sloan: Emergency Room Pharmacist
Cole Sloan: Emergency Room Pharmacist
When a patient arrived with sepsis at American Fork Hospital, everything Cole Sloan had learned in pharmacy school suddenly came to life. Here was a person in true crisis. The advice of the emergency room pharmacist would be critical to ensuring the man lived.
It was an ordinary clinical rotation—standard for a PharmD program—and it changed the course of Sloan's career.
Another patient came in after an overdose. A doctor tossed Sloan the bottle of pills and told him to help research the drug.
"That's when I fell in love," Sloan recalled of his first time in the emergency department (ED). "You don't know what's coming in the next five minutes. You have to be ready for anything."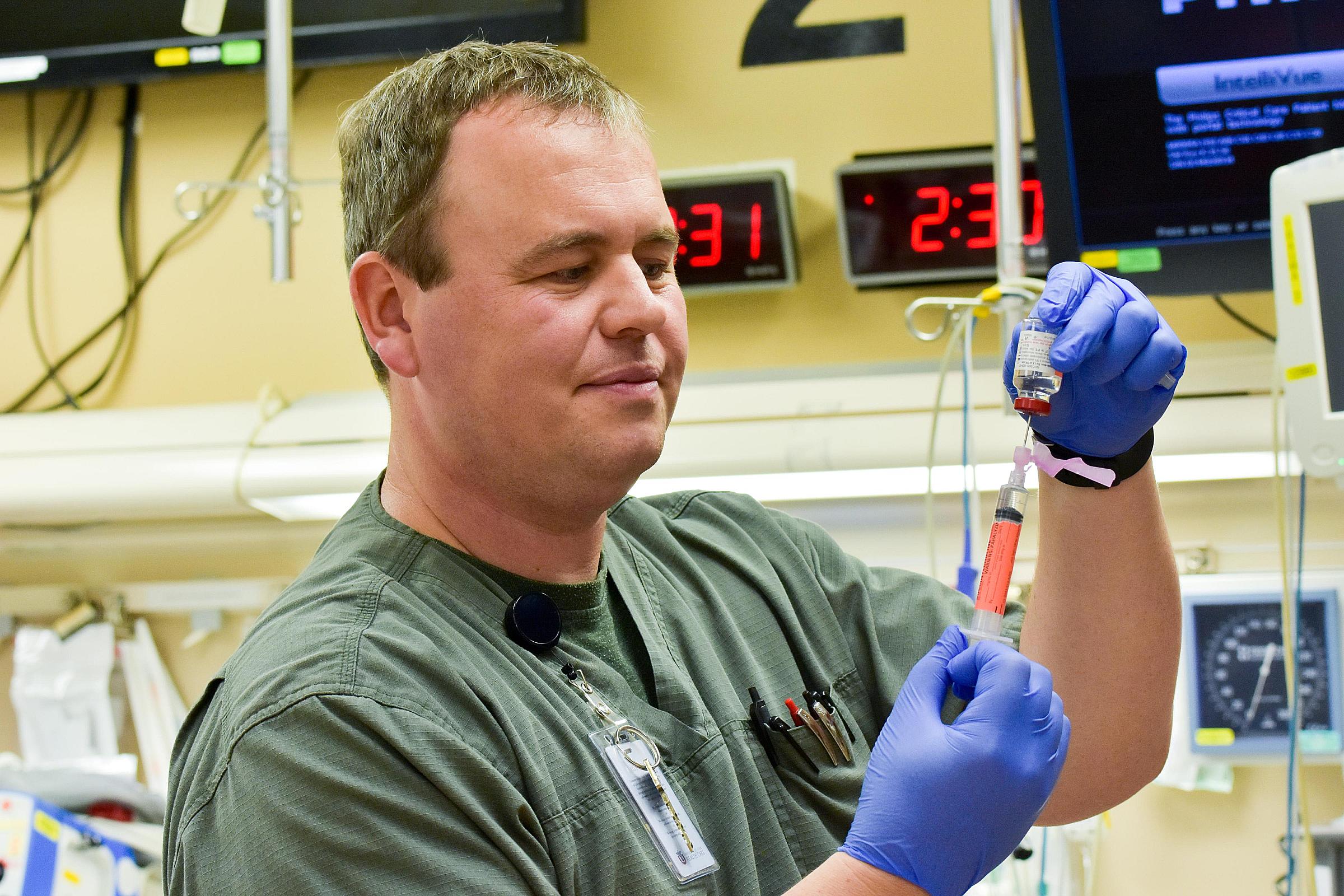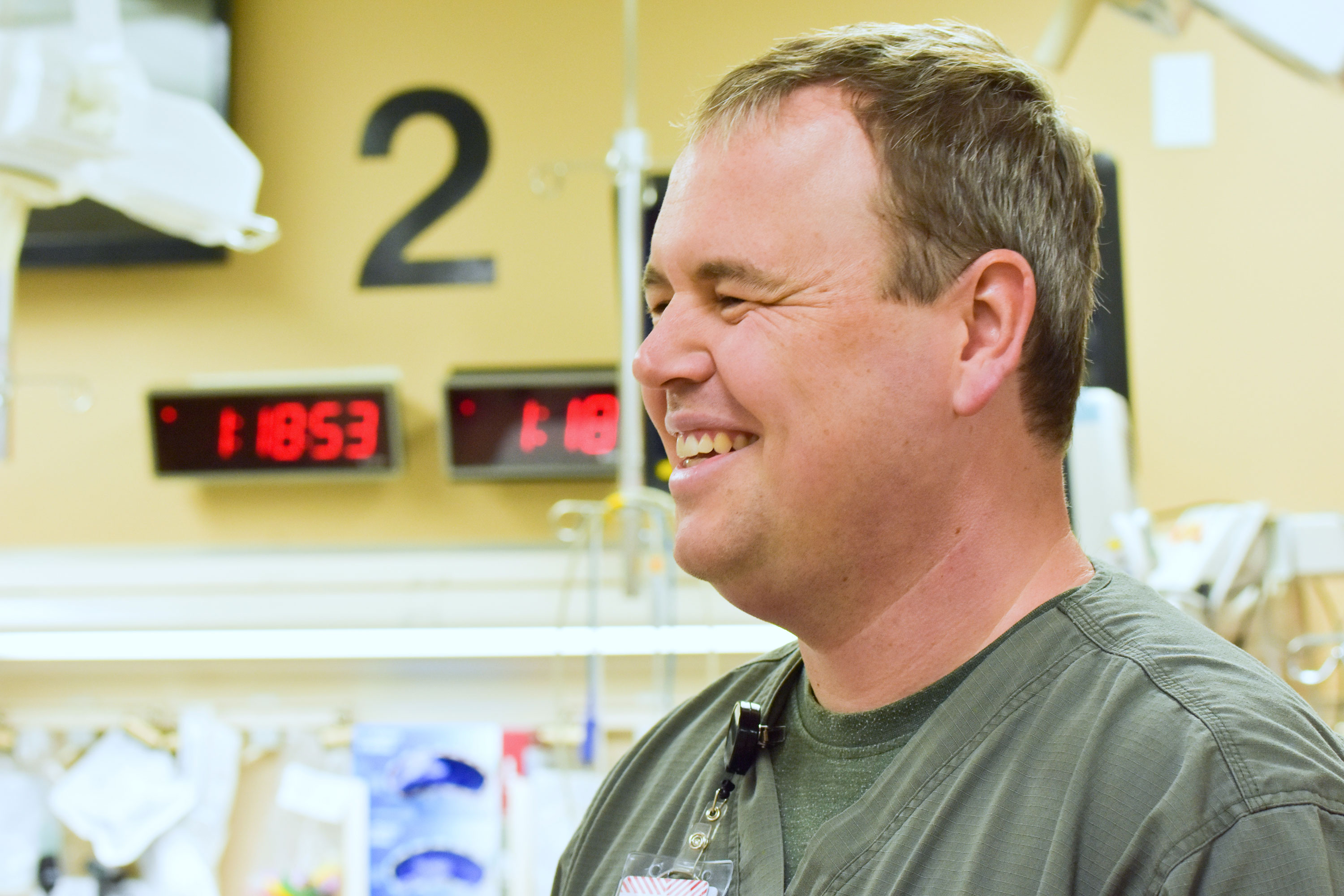 Today the 34-year-old is part of a well-established team of clinical pharmacists who staff the ED at University of Utah Hospital. Sloan had explored a variety of pharmacy careers, from retail to administration, while studying at the U's College of Pharmacy and was particularly struck by the growth in skill level of the ED residents he observed.
So, after a year of post-graduate pharmacy practice residency at the University of Arizona and a second in emergency medicine, he joined University of Utah Health. With the number of ED pharmacists on the rise nationally, Sloan entered a growing field. In fact, U of U Hospital recently added two more pharmacists to its ED team, with more growth to come.
"I don't have to wonder if I'm making an impact," said Sloan, who grew up in Salt Lake City. "People say emergency medicine is the most interesting 15 minutes of every other specialty. 
A former lacrosse player, Sloan loves the team aspects of emergency medicine. The doctors and nurses rely on his depth of knowledge. They also help him improve.
"We're all working toward a great outcome for the patient," Sloan said. "I didn't think this is what a pharmacist could be doing."
Sloan's Path to Pharmacy
In fact, Sloan had not anticipated a career in pharmacy at all. He had planned to use his biochemistry undergraduate degree to teach math and science. After teaching for a year in England, he discovered it wasn't his true calling.
Sloan's uncle, a professor at Washington State University, encouraged him to explore the field, so he briefly worked as a Walgreen's pharmacy technician. He wasn't convinced this was his path either. "My uncle convinced me there was more out there," he said.
After a summer spent working in a research lab, Sloan realized he wanted to work with people and distill information in ways they could understand. Maybe he would try pharmacy after all. The diversity of rotations for students at U of U College of Pharmacy and access to a major health system convinced him that the school would be a great fit.
Life in the ED
At University Hospital, where Sloan's pharmacy colleagues typically have 10 or more years of experience in the field, some days are a cascade of interesting cases. 
On a recent night, an elderly woman came in with a urinary tract infection. She had already taken a muscle relaxant earlier in the day. Common treatments for UTI would have been potentially deadly in combination with her other prescription. Sloan coordinated with the ER physician to provide medication that would not have a dangerous interaction.
"That could have caused major complications and potentially killed her," he said.
Sometimes Sloan helps people manage more everyday health problems, like diabetes. Even that can be truly rewarding. 
"I make an impact every day," he said. "I can work a little more closely with their medications—that's usually where their problem is—and talk to their pharmacist and primary care provider." 
Looking Forward to the Future
In 2019, Sloan will begin directing a new second-year emergency department residency program at the hospital. Still, he encourages students to have an open mind as to where they might end up professionally.
"I've seen lots of us change paths," said the 2013 PharmD graduate. "You will find a spot where you'll be helpful to your patients, whether that's in rural Utah or working for Pfizer."
To current pharmacy students, Sloan offers his advice: "Read a lot, talk to as many patients, as many doctors as many nurses as you can, because you're going to spend a lot of time in a room full of pharmacists during pharmacy school. You want to apply all that great knowledge in a way patients and other health care professionals understand."