Dr. Harold 'Hal' Wolf and his wife, Dr. Joan S. Wolf, share a long legacy at the University of Utah College of Pharmacy (CoP). Hailing from Massachusetts, the Wolfs found their way to Salt Lake City in 1956 after Hal received a BS in Pharmacy from the Massachusetts College of Pharmacy and decided to pursue his Ph.D in Pharmacology at the University of Utah College of Pharmacy. Hal's choosing the University of Utah came as a surprise to his peers, as Utah was not yet established as the medical science powerhouse it is today. However, Hal accepted a graduate fellowship to have the opportunity to study under one of the most well-known pharmacology academics in the nation, University of Utah's Dr. Louis Goodman. It didn't hurt that the Wolfs loved the landscape of Utah.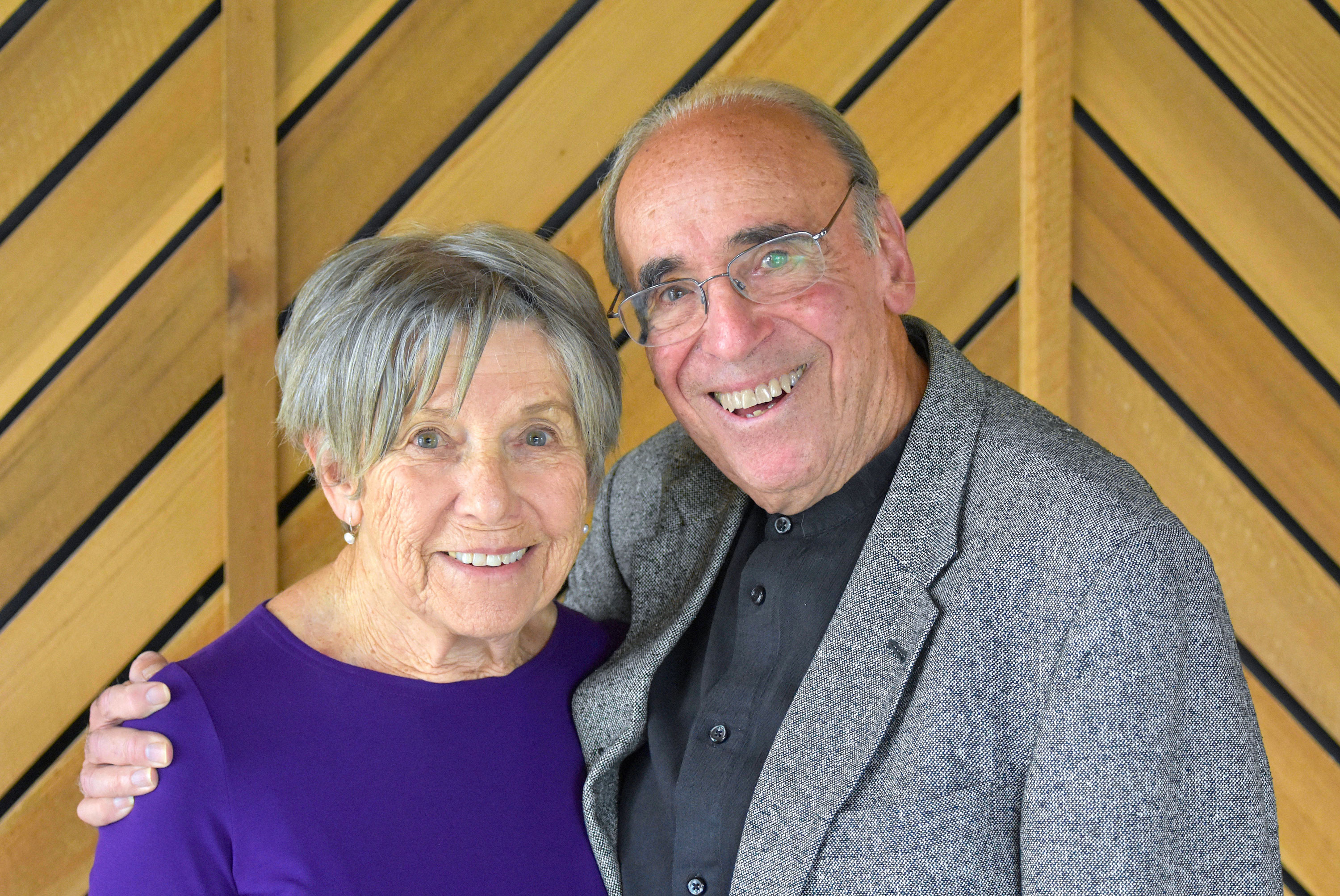 In 1961, upon earning his Ph.D, he and Joan road-tripped to Columbus, Ohio where Hal accepted an Assistant Professor position in the Division of Pharmacology at The Ohio State University. Even though the Wolfs were not impressed by Ohio's scenery, they agreed that this was a great professional opportunity. And, indeed it was. During their time there, Joan earned her Ph.D in Special Education at Ohio State.
After 15 years, with many accomplishments from both partners, the Wolfs moved back to Salt Lake City in 1976 for Hal to assume the position of Dean of the University of Utah College of Pharmacy. It was not in the family's plans to move back to Salt Lake as they had forged strong professional ties and many friendships in Ohio, but the opportunity to help shape the future of the college with a core faculty who recognized that excellence in both teaching and research is essential, was too good an offer for Hal to dismiss. Meanwhile, Joan joined the faculty in the Univeristy of Utah Graduate School of Education where she enjoyed a 20 year career preparing graduate students to work with gifted and learning disabled populations, retiring as Professor in 1996. After retiring from the University, Joan spent many years in private practice. The Wolfs, with sons Gary and David, grew to love all that Salt Lake City had to offer. Hal, Joan and David still call Utah home today.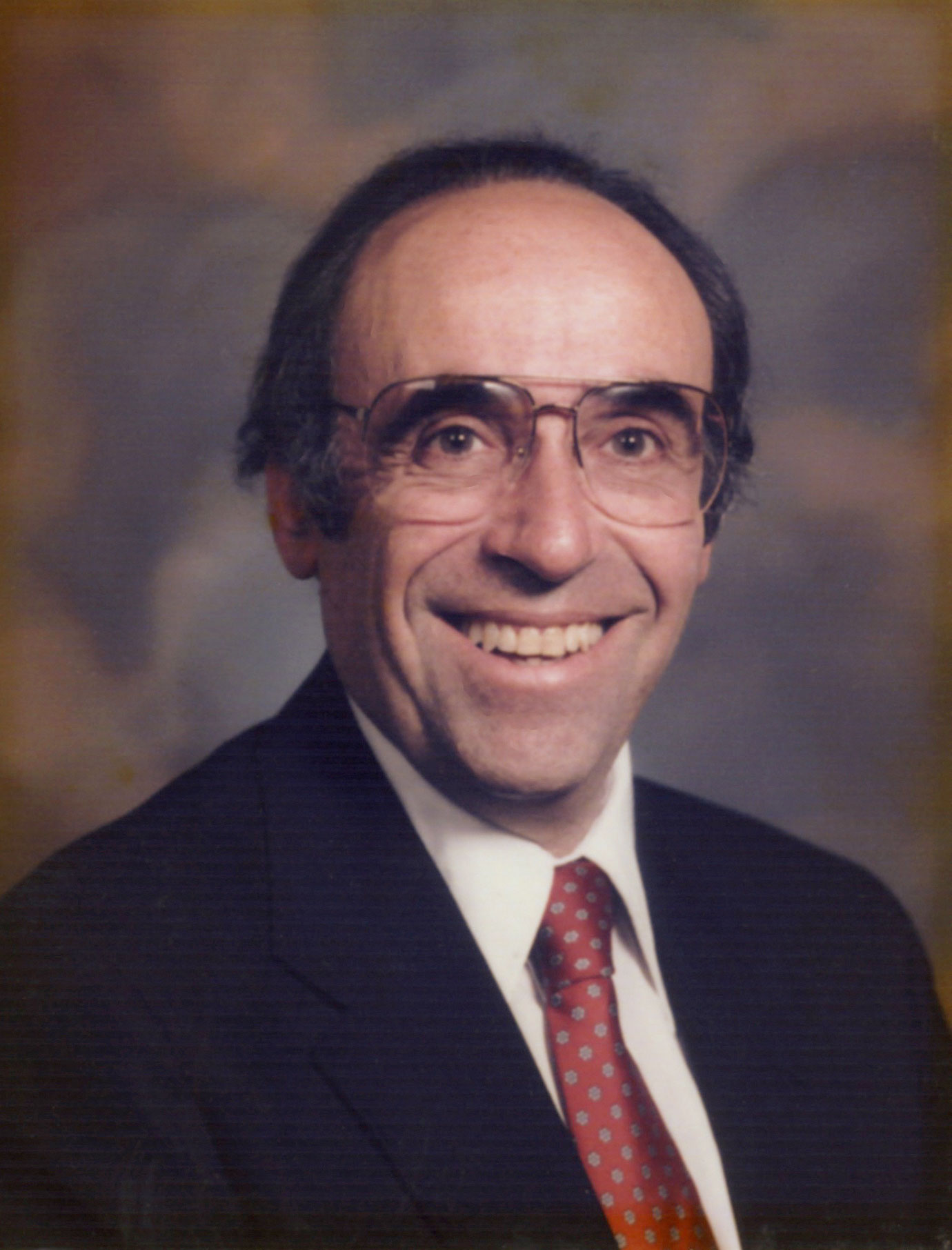 Hal's deanship at the CoP was demanding and important to him, but nothing surpassed his passion for teaching and research. Thus, he was instrumental in establishing the Anticonvulsant Drug Development Program (ADD) program, authored and published over 300 scientific and professional papers, taught classes, and accomplished much more. He also led the faculty in the design of a new administrative structure leading to the creation of the four departments currently within the College. In short, Hal facilitated countless positive changes during his deanship and as a faculty member at the University of Utah College of Pharmacy. He continued for many years to serve as Director of the ADD program.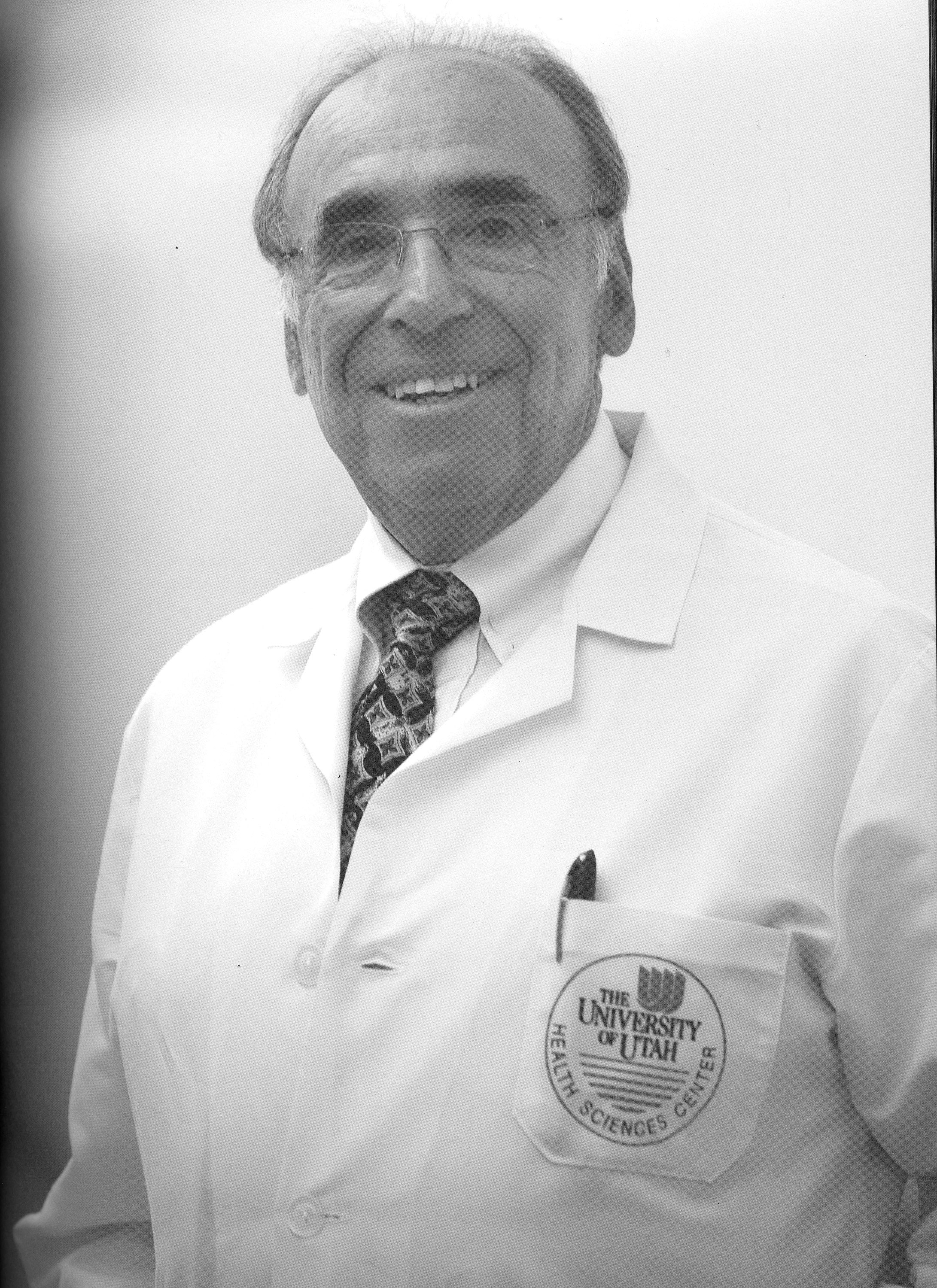 Since stepping down from the deanship in 1989 and retiring from his other responsibilities at the college a few years ago, Hal and Joan remain involved in University activities and in the development and success of the College of Pharmacy. They attend many of the college's events, have created the Wolf Prize in the CoP and, through University Neighborhood Partners, created Meritus scholarship awards for high school graduates. In a way, Hal has never retired from the CoP. The Wolfs remain two of its greatest supporters and will continue to bolster the college's growth for years to come.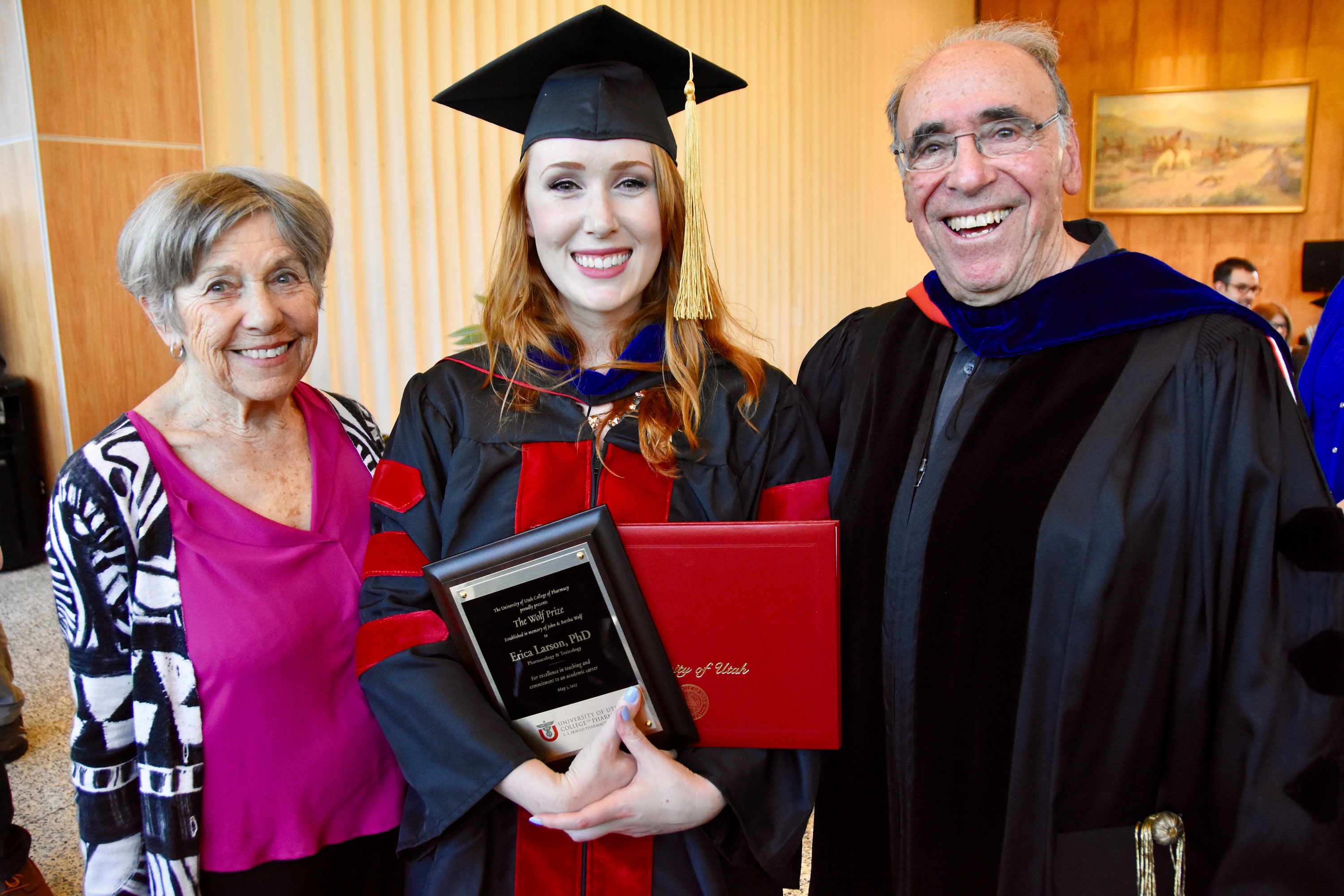 Dr. Hal Wolf's Timeline of Accomplishments:
1956-1961: Ph.D in Pharmacology, University of Utah
1961-1976: Professor & Chair, Dept. of Pharmacology, The Ohio State University
1973-1974: Professor, Universiti Sains Malaysia, Penang, Fullbright Award to help establish the first College of Pharmacy in Malaysia
1976-1989: Dean of the College of Pharmacy
For many years, taught pharmacology in College of Pharmacy, School of Medicine, College of Nursing and College of Health; impacted many students at undergraduate and graduate levels and found tremendous satisfaction in a passion for teaching
Widely published; author of some 300 peer reviewed, scientific and professional articles in the areas of neuropharmacology and pharmacy education
Guided and mentored many Pharmacology graduate students who continued on to noted careers in pharmaceutical education and pharmaceutical/medical research
1976-1989: Director of the NIH Anticonvulsant Drug Development Program. This ongoing program has been the longest, continuously funded, applied research project at the University of Utah by NIH (NINDS)
1976: Served as President of American Association of Colleges of Pharmacy (AACP)
1988: Recipient of AACP Distinguished Educator Award for outstanding achievement and contributions to pharmaceutical education
1989: Recipient of Rosenblatt Prize for Excellence, University of Utah 
1989-1992: Chair of Commission to Implement Change in Pharmaceutical Education, (AACP)
The commission worked over a three-year period (1989-1992) and its recommendations, endorsed by the American Association of Colleges of Pharmacy (AACP) and the American Pharmaceutical Association (APhA), had a major impact on professional pharmacy education. In 1992, in accord with the Commission's report, the American Council on Pharmacy Education (ACPE) required that all accredited pharmacy schools offer a Doctor of Pharmacy degree. With the graduating class of 2006, the Bachelor of Science degree was replaced by the Doctor of Pharmacy degree and has led to significant changes in the practice of Pharmacy and in the professional role and responsibilities of pharmacists as partners in delivery of health care 
2001: With his wife, Joan, established an endowment for the Wolf Prize in the College of Pharmacy; $5000.00 cash award given annually to a graduating Ph.D. student in the college who has shown high interest and excellence in teaching activities and has a goal of an academic career 
2007: With his wife, Joan established the Meritus scholarships through University Neighborhood Partners for graduating high school seniors on the West Side of Salt Lake City to help and encourage them in their pursuit of post-secondary education.