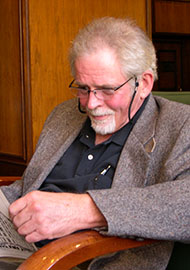 David Moody
Education:
B.A., 1972, University of Kansas, Chemistry
Ph.D., 1977, University of Kansas, Experimental Pathology
Postdoctoral Fellow, 1977-1980, University of Californai San Francisco
Our laboratory has used the power of mass spectrometry (MS) coupled to liquid or gas chromatography to measure amounts of drugs, drug metabolites and other xenobiotics in biological samples. We often use this technology to provide analytical services to other investigators, either commercially or collaboratively. When funding for research is obtained, we have used MS techniques to study in vitro drug metabolism. This includes use of animal models, human liver microsomes, cDNA-expressed drug metabolizing enzymes and human clinical studies. We have examined the role of cytochrome P450s (CYP) 2D1 in rat metabolism of amphetamine, the involvement of different in CYPs in the metabolism of l-acetylmethadol (LAAM) and methadone, and the involvement of both CYPs and glucuronosyltransferases (UGT) in the metabolism of buprenorphine. Currently we are studying in vitro inhibition of the metabolism of oxycodone, methadone and buprenorphine.
Christodoulides, N., De La Garza, R. 2nd, Simmons, G.W., McRae, M.P., Wong, J., Newton T.F., Smith, R., Mahoney, III J.J., Hohenstein, J., Gomez, S., Floriano, P.N., Talavera, H., Sloan, D.J., Moody, D.E., Andrenyak, D.M., Kosten, T.R., Haque, A., and McDevitt, J.T.. Application of programmable bio-nano-chip system for the quantitative detection of drugs of abuse in oral fluids.  Drug Alcohol Depend. 153: 306-313, 2015.  PMID: 26048639, PMCID: PMC4509839, DOI: 10.1016/j.drugalcdep.2015.04.026
Ng, C.M., Dombrowsky, E., Lin, H.P., Erlich, M.E., Moody, D.E., Barrett, J.S. and Kraft, W.K.  Population pharmacokinetic model of sublingual buprenorphine in neonatal abstinence syndrome.  Pharmacotherapy 35: 670-680, 2015.  PMID: 26172282, PMCID: PMC5119858, DOI: 10.1002/phar.1610
Grasing, K., Mathur, D., DeSouza, C., Newton, T.F., Moody, D.E., and Sturgill, M.  Cocaine cardiovascular effects and pharmacokinetics after treatment with the acetylcholinesterase inhibitor donezil.  Am. J. Addict. 25: 392-399, 2016.  PMID: 27392137, PMCID: PMC4967259, DOI: 10.1111/ajad.12402
DeYoung, D.Z.  Heinzerling, K.G., Swanson, A.N., Tsuang, J., Burst, B.A., Yi, Y, Wu, Y.N., Moody, D.E., Andrenyak, D.M., and Shoptaw, S.J.  Safety of intravenous methamphetamine administration during ibudilast treatment.  J. Clin. Psychopharmacol.  36: 347-354, 2016.  PMID: 27269956, PMCID: PMC4927401, DOI:10.1097/JCP.0000000000000511
Andrenyak, D.M., Moody, D.E., Slawson, M.H., and Haney, M.  Determination of ∆-9-tetrahydrocannabinol (THC), 11-hydroxy-THC, 11-nor-9-carboxy-THC and cannabiol in huan plasma using gas chromatography-tandem mass spectrometry.  J. Anal. Toxicol. 41: 277-288, 2017.  PMID: 28069869 PMCID: PMC5412026, DOI: 10.1093/jat/bkw136
Moody, D.E.  The inhibition of first-pass metabolism of ethanol by H2-receptor antagonists: a tabulated review.  Expert Opin. Drug Saf. 17: 917-934, 2018.  PMID: 30117350, DOI: 10.1080/14740338.2018.1512969
Briones, M., Shoptaw, S., Cook, R., Worley, M, Swanson, A.N., Moody, D.E., Fang, W.B., Tsuang, J., Furst, B., Heinzerling, K.  Varenicline treatment for methamphetamine dependence: A randomized double-blind phase II clinical trial.  Drug Alcohol Depend. 189: 30-36, 2018.  PMID: 29860057, PMCID: PMC6391991, DOI:10.1016/j.drugalcdep.2018.04.023
Moore, J.N., Gastonguay, M.R., Adeniyi-Jones, S.C., Moody, D.E., Fang, W.B., Ehrlich, M.E., and Kraft, W.K.  The pharmacokinetics and pharmacodynamics of buprenorphine in neonatal abstinence syndrome.  Clin. Pharmacpol. Ther. 103: 1029-1037, 2018.  PMID: 29516490, PMCID: PMC5992055, DOI: 10.1002/cpt.1064
Moody, D.E., Fu, Y., and Fang, W.B.  Inhibition of in vitro metabolism of opioids by skeletal muscle relaxants.  Basic Clin. Pharmacol. Toxicol. 123: 327-334, 2018.  PMID: 29504673, DOI: 10.1111/bcpt.12999
Liu, T., Lewis, T.R., Moore, J.N., Kraft, W.K., Gauba, E.B., Sartori, D., Moody, D.E., Gobburu, J.V.S., and Ivaturi, V.  Could postnatal age-related uridine diphosphate glucuronic acid be a rate-limiting factor in metabolism of morphine during the first week of life?  CPT Pharmacometrics Syst. Pharmacol. 8: 469-477, 2019.  PMID: 31044547