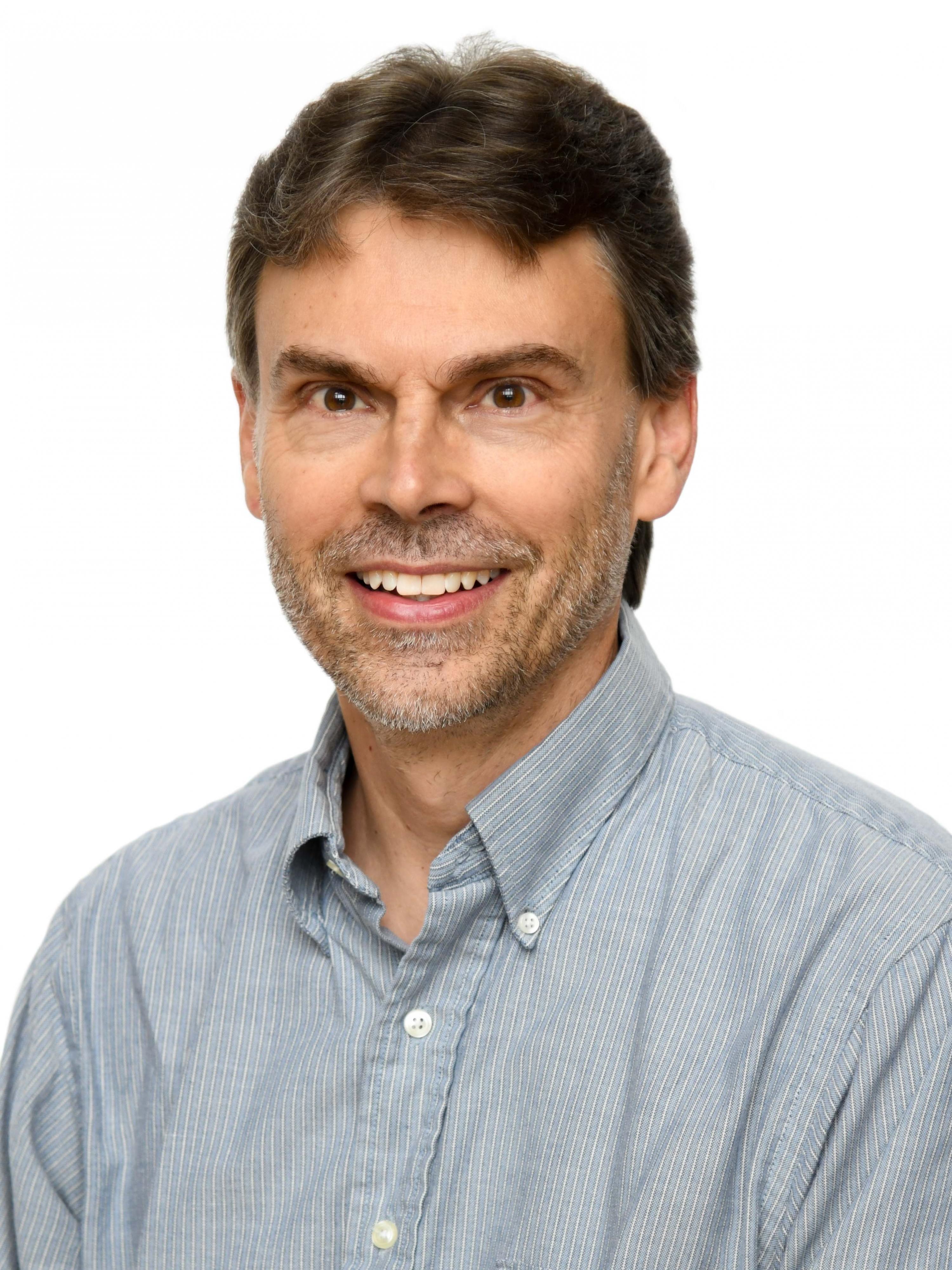 Philip Moos
Office: L.S. Skaggs Research Institute 3914
Phone: (801) 585-5249
Email: Philip.Moos@pharm.utah.edu
Education:
1989 - B.S. Aerospace Engineering Sciences, University of Colorado, Boulder, CO.

1990 - M.S. Aerospace Engineering Sciences, University of Colorado, Boulder, CO.

1994 - Ph.D. Biology, Kansas State University, Manhattan, KS
The Moos laboratory is broadly interested in understanding cancer susceptibility and the development of resistance. Research efforts are focused on cancer genomics, mechanisms of disease, modifiers of cancer risk, and drug susceptibility.
Current work is primarily in three arenas: 1) tumor heterogeneity and the role genotype and phenotype in the response to therapeutics during cancer progression, 2) combining genomics and drug screens to identify novel therapeutic agents, and 3) genomic evaluation of nanoparticles for inflammatory potential or other toxic adverse effects.
The first and second area of research are collaborations with Dr. Bild and focus on tumor heterogeneity. Most tumors are thought to have monoclonal origin but by the time they are diagnosed, they are heterogeneous in terms of the subclonal structure driving their growth. We are involved in a collaboration where we are using various genomic strategies, from whole genome sequencing to single cell-RNA sequencing to elucidate the subclonal structure and pathways that dominate the subclones. We are also testing unique drugs and drug combinations to identify new potential strategies for therapeutic intervention.
The third and newer, area of research utilizes transcript profiling and apoptotic studies to evaluate particulate matter toxicity and inflammatory potential. We have found that certain metal oxide manufactured nanoparticles have significant toxicity and induce a cellular response to the stress of the nanoparticles. Nanomaterials provide many benefits and are being utilized more broadly so it is important to understand the potential toxicities, and mitigation strategies prior to use. Therefore, we collaborate with Dr. Ghandehari to understand the basis of the toxicology of materials with the potential for biomedical application. We also collaborate with Dr. Reilly to evaluate the genomic consequences of airborne pollutants that are risk factors for diseases like asthma
1. Piccolo SR, Hoffman LM, Conner T, Shrestha G, Cohen AL, Marks JR, Neumayer LA, Agarwal CA, Beckerle MC, Andrulis IL, Spira AE, Moos PJ, Buys SS, Johnson WE, Bild AH. Integrative analyses reveal signaling pathways underlying familial breast cancer susceptibility. Mol Syst Biol. 2016;12(3):860. doi: 10.15252/msb.20156506. PubMed PMID: 26969729.
2. Piccolo SR, Andrulis IL, Cohen AL, Conner T, Moos PJ, Spira AE, Buys SS, Johnson WE, Bild AH. Gene-expression patterns in peripheral blood classify familial breast cancer susceptibility. BMC Med Genomics. 2015;8:72. doi: 10.1186/s12920-015-0145-6. PubMed PMID: 26538066; PMCID: PMC4634735.
3. Cassidy PB, Honeggar M, Poerschke RL, White K, Florell SR, Andtbacka RH, Tross J, Anderson M, Leachman SA, Moos PJ. The role of thioredoxin reductase 1 in melanoma metabolism and metastasis. Pigment Cell Melanoma Res. 2015;28(6):685-95. doi: 10.1111/pcmr.12398. PubMed PMID: 26184858.
4. El-Chaar NN, Piccolo SR, Boucher KM, Cohen AL, Chang JT, Moos PJ, Bild AH. Genomic classification of the RAS network identifies a personalized treatment strategy for lung cancer. Mol Oncol. 2014;8(7):1339-54. doi: 10.1016/j.molonc.2014.05.005. PubMed PMID: 24908424; PMCID: PMC4450766.
5. Soldi R, Cohen AL, Cheng L, Sun Y, Moos PJ, Bild AH. A genomic approach to predict synergistic combinations for breast cancer treatment. Pharmacogenomics J. 2013;13(1):94-104. doi: 10.1038/tpj.2011.48. PubMed PMID: 22083351; PMCID: PMC4450767.
6. Okal A, Mossalam M, Matissek KJ, Dixon AS, Moos PJ, Lim CS. A chimeric p53 evades mutant p53 transdominant inhibition in cancer cells. Mol Pharm. 2013;10(10):3922-33. doi: 10.1021/mp400379c. PubMed PMID: 23964676.
7. Moos PJ, Honeggar M, Malugin A, Herd H, Thiagarajan G, Ghandehari H. Transcriptional responses of human aortic endothelial cells to nanoconstructs used in biomedical applications. Mol Pharm. 2013;10(8):3242-52. doi: 10.1021/mp400285u. PubMed PMID: 23806026; PMCID: PMC3773976.
8. Cassidy PB, Fain HD, Cassidy JP, Jr., Tran SM, Moos PJ, Boucher KM, Gerads R, Florell SR, Grossman D, Leachman SA. Selenium for the prevention of cutaneous melanoma. Nutrients. 2013;5(3):725-49. doi: 10.3390/nu5030725. PubMed PMID: 23470450; PMCID: PMC3705316.
9. Poerschke RL, Franklin MR, Bild AH, Moos PJ. Major differences among chemopreventive organoselenocompounds in the sustained elevation of cytoprotective genes. J Biochem Mol Toxicol. 2012;26(9):344-53. doi: 10.1002/jbt.21427. PubMed PMID: 22807314; PMCID: PMC4551423.
10. Poerschke RL, Moos PJ. Thioredoxin reductase 1 knockdown enhances selenazolidine cytotoxicity in human lung cancer cells via mitochondrial dysfunction. Biochem Pharmacol. 2011;81(2):211-21. doi: 10.1016/j.bcp.2010.09.024. PubMed PMID: 20920480; PMCID: PMC3005891.
11. Moos PJ, Olszewski K, Honeggar M, Cassidy P, Leachman S, Woessner D, Cutler NS, Veranth JM. Responses of human cells to ZnO nanoparticles: a gene transcription study. Metallomics. 2011;3(11):1199-211. doi: 10.1039/c1mt00061f. PubMed PMID: 21769377; PMCID: PMC3881269.
12. Rock C, Moos PJ. Selenoprotein P protects cells from lipid hydroperoxides generated by 15-LOX-1. Prostaglandins Leukot Essent Fatty Acids. 2010;83(4-6):203-10. doi: 10.1016/j.plefa.2010.08.006. PubMed PMID: 20826080; PMCID: PMC2993840.
13. Moos PJ, Chung K, Woessner D, Honeggar M, Cutler NS, Veranth JM. ZnO particulate matter requires cell contact for toxicity in human colon cancer cells. Chem Res Toxicol. 2010;23(4):733-9. doi: 10.1021/tx900203v. PubMed PMID: 20155942.
14. Edes K, Cassidy P, Shami PJ, Moos PJ. JS-K, a nitric oxide prodrug, has enhanced cytotoxicity in colon cancer cells with knockdown of thioredoxin reductase 1. PLoS One. 2010;5(1):e8786. doi: 10.1371/journal.pone.0008786. PubMed PMID: 20098717; PMCID: PMC2808390.
15. Warters RL, Packard AT, Kramer GF, Gaffney DK, Moos PJ. Differential gene expression in primary human skin keratinocytes and fibroblasts in response to ionizing radiation. Radiat Res. 2009;172(1):82-95. doi: 10.1667/RR1677.1. PubMed PMID: 19580510; PMCID: PMC2734195.
16. Rock C, Moos PJ. Selenoprotein P regulation by the glucocorticoid receptor. Biometals. 2009;22(6):995-1009. doi: 10.1007/s10534-009-9251-2. PubMed PMID: 19513589; PMCID: PMC3039700.
17. Honeggar M, Beck R, Moos PJ. Thioredoxin reductase 1 ablation sensitizes colon cancer cells to methylseleninate-mediated cytotoxicity. Toxicol Appl Pharmacol. 2009;241(3):348-55. doi: 10.1016/j.taap.2009.09.010. PubMed PMID: 19782697; PMCID: PMC2783461.
18. Poerschke RL, Franklin MR, Moos PJ. Modulation of redox status in human lung cell lines by organoselenocompounds: selenazolidines, selenomethionine, and methylseleninic acid. Toxicol In Vitro. 2008;22(7):1761-7. doi: 10.1016/j.tiv.2008.08.003. PubMed PMID: 18768157; PMCID: PMC2574541.
19. Thomas KC, Sabnis AS, Johansen ME, Lanza DL, Moos PJ, Yost GS, Reilly CA. Transient receptor potential vanilloid 1 agonists cause endoplasmic reticulum stress and cell death in human lung cells. J Pharmacol Exp Ther. 2007;321(3):830-8. doi: 10.1124/jpet.107.119412. PubMed PMID: 17332266.
20. Franklin MR, Moos PJ, El-Sayed WM, Aboul-Fadl T, Roberts JC. Pre- and post-initiation chemoprevention activity of 2-alkyl/aryl selenazolidine-4(R)-carboxylic acids against tobacco-derived nitrosamine (NNK)-induced lung tumors in the A/J mouse. Chem Biol Interact. 2007;168(3):211-20. doi: 10.1016/j.cbi.2007.04.012. PubMed PMID: 17543294; PMCID: PMC1988784.
21. Cordray P, Doyle K, Edes K, Moos PJ, Fitzpatrick FA. Oxidation of 2-Cys-peroxiredoxins by arachidonic acid peroxide metabolites of lipoxygenases and cyclooxygenase-2. J Biol Chem. 2007;282(45):32623-9. doi: 10.1074/jbc.M704369200. PubMed PMID: 17855346.
22. Cassidy PB, Edes K, Nelson CC, Parsawar K, Fitzpatrick FA, Moos PJ. Thioredoxin reductase is required for the inactivation of tumor suppressor p53 and for apoptosis induced by endogenous electrophiles. Carcinogenesis. 2006;27(12):2538-49. doi: 10.1093/carcin/bgl111. PubMed PMID: 16777982.
23. Yu MK, Moos PJ, Cassidy P, Wade M, Fitzpatrick FA. Conditional expression of 15-lipoxygenase-1 inhibits the selenoenzyme thioredoxin reductase: modulation of selenoproteins by lipoxygenase enzymes. J Biol Chem. 2004;279(27):28028-35. doi: 10.1074/jbc.M313939200. PubMed PMID: 15123685.
24. Raetz EA, Moos PJ. Impact of microarray technology in clinical oncology. Cancer Invest. 2004;22(2):312-20. PubMed PMID: 15199613.
25. Moos PJ, Edes K, Mullally JE, Fitzpatrick FA. Curcumin impairs tumor suppressor p53 function in colon cancer cells. Carcinogenesis. 2004;25(9):1611-7. doi: 10.1093/carcin/bgh163. PubMed PMID: 15090465.
26. Raetz EA, Kim MK, Moos P, Carlson M, Bruggers C, Hooper DK, Foot L, Liu T, Seeger R, Carroll WL. Identification of genes that are regulated transcriptionally by Myc in childhood tumors. Cancer. 2003;98(4):841-53. doi: 10.1002/cncr.11584. PubMed PMID: 12910530.
27. Moos PJ, Edes K, Cassidy P, Massuda E, Fitzpatrick FA. Electrophilic prostaglandins and lipid aldehydes repress redox-sensitive transcription factors p53 and hypoxia-inducible factor by impairing the selenoprotein thioredoxin reductase. J Biol Chem. 2003;278(2):745-50. doi: 10.1074/jbc.M211134200. PubMed PMID: 12424231.
28. Moos PJ, Raetz EA, Carlson MA, Szabo A, Smith FE, Willman C, Wei Q, Hunger SP, Carroll WL. Identification of gene expression profiles that segregate patients with childhood leukemia. Clin Cancer Res. 2002;8(10):3118-30. PubMed PMID: 12374679.
29. Liu T, Raetz E, Moos PJ, Perkins SL, Bruggers CS, Smith F, Carroll WL. Diversity of the apoptotic response to chemotherapy in childhood leukemia. Leukemia. 2002;16(2):223-32. doi: 10.1038/sj.leu.2402360. PubMed PMID: 11840289.
30. Cassidy PB, Moos PJ, Kelly RC, Fitzpatrick FA. Cyclooxygenase-2 induction by paclitaxel, docetaxel, and taxane analogues in human monocytes and murine macrophages: structure-activity relationships and their implications. Clin Cancer Res. 2002;8(3):846-55. PubMed PMID: 11895918.
31. Raetz EA, Moos PJ, Szabo A, Carroll WL. Gene expression profiling. Methods and clinical applications in oncology. Hematol Oncol Clin North Am. 2001;15(5):911-30, ix. PubMed PMID: 11765379.
32. Mullally JE, Moos PJ, Edes K, Fitzpatrick FA. Cyclopentenone prostaglandins of the J series inhibit the ubiquitin isopeptidase activity of the proteasome pathway. J Biol Chem. 2001;276(32):30366-73. doi: 10.1074/jbc.M102198200. PubMed PMID: 11390388.
33. Moos PJ, Edes K, Fitzpatrick FA. Inactivation of wild-type p53 tumor suppressor by electrophilic prostaglandins. Proc Natl Acad Sci U S A. 2000;97(16):9215-20. doi: 10.1073/pnas.160241897. PubMed PMID: 10908664; PMCID: PMC16848.
34. Moos PJ, Muskardin DT, Fitzpatrick FA. Effect of taxol and taxotere on gene expression in macrophages: induction of the prostaglandin H synthase-2 isoenzyme. J Immunol. 1999;162(1):467-73. PubMed PMID: 9886421.
35. Moos PJ, Fitzpatrick FA. Taxane-mediated gene induction is independent of microtubule stabilization: induction of transcription regulators and enzymes that modulate inflammation and apoptosis. Proc Natl Acad Sci U S A. 1998;95(7):3896-901. PubMed PMID: 9520464; PMCID: PMC19934.