Our commitment to Equity and Inclusion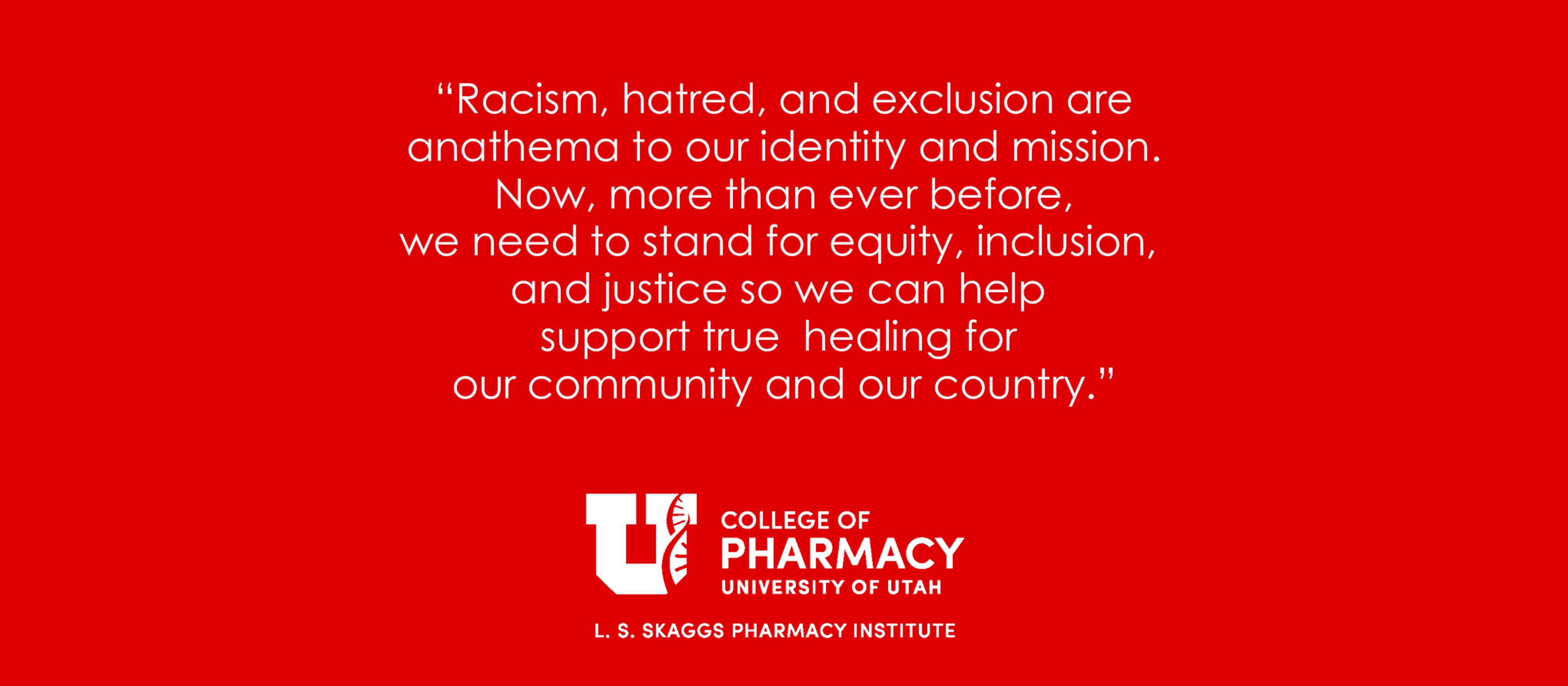 Dear College of Pharmacy community,
We are dismayed, saddened, and angered by the abhorrent killing of George Floyd, which has served as yet another reminder of the racism, deep divisions and injustices that persist in our country.  At a time when the nation should be unified in fighting an invisible external threat, it is especially painful to be reminded of the insidious internal threats of racism, exclusion, and inequity.  There is no herd immunity to such threats, so we must continue to work at eradicating them from our hearts and our communities.  We all come from different cultural and political experiences but we share the belief that the lives of our Black/African American students, faculty, staff, and community members matter deeply to our practice, our College, our University.
All of us were drawn to the College of Pharmacy because we believe in the imperative of caring for and healing everyone in need.  Racism, hatred, and exclusion are anathema to our identity and mission.  Now, more than ever before, we need to stand for equity, inclusion, and justice so we can help support true healing for our community and our country.
We join with President Watkins and University of Utah leadership in declaring our solidarity with those who have been wounded by the events of this past week and our commitment to principles of justice, diversity, and inclusion (read here).  We have charged our college's Diversity and Inclusion Committee to lead our college in careful review of our own culture and practice, and in an exploration of what we can do to improve our college, as well as help our university, city, and state listen and respond to the voices of those in need, those in pain, those less powerful.  We invite each of you to join with us in dialog and action.  We will be providing opportunities for you to share your ideas in the coming days, and we welcome your input to this important dialog.
Sincerely,
Randall Peterson
Dean
James Herron
Executive Associate Dean, Professional Education 
Kristen Keefe
Associate Dean, Faculty
Don Blumenthal
Associate Dean, Interprofessional Education
Linda Tyler
Associate Dean, Pharmacy Practice
Karen Gunning
Associate Dean, Community Engagement
Krystal Moorman
Assistant Dean, Experiential Education
Jennifer Aoyagi Bangerter
Assistant Dean, Finance and Administration
Dan Witt
Department Chair, Pharmacotherapy Assistant Dean, Clinical Affairs
Karen Wilcox
Department Chair, Pharmacology and Toxicology
Hamid Ghandehari
Department Chair, Pharmaceutics and Pharmaceutical Chemistry
Darrell Davis
Department Chair, Medicinal Chemistry Executive Associate Dean, Research and Graduate Education
Shawna Webster
Chair, Diversity and Inclusion Committee