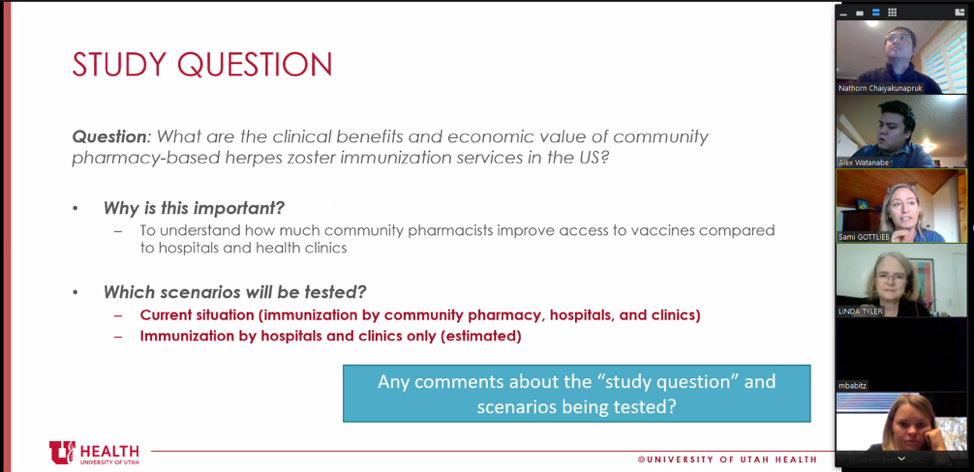 Community pharmacists are the most accessible healthcare professionals and play a crucial role in providing vaccinations to the general public. However, the impact pharmacists have had in improving access to vaccines has never been measured.
To address this information gap, Dr. Nathorn (Nui) Chaiyakunapruk is building a mathematical model to estimate the public health and economic impact of vaccination services by community pharmacies.
Dr. Chaiyakunapruk and his research team including Dr.Elizabeth Bald (Clinical Assistant Professor in Department of Pharmacotherapy), Dr.Alex Watanabe (fellow), and Dr.Sajesh Veettil (fellow) have engaged several stakeholders to hear their feedback on the project scope and approach. Involved stakeholders include Dr. Linda Tyler (Chief Pharmacy Officer of the University of Utah Health, Associate Dean of University of Utah College of Pharmacy, and the American Society of Health-System Pharmacists President-Elect), Dr. Marc Babitz (Division Director of Family Health and Preparedness of the Utah Department of Health), Dr. Sami Gottlieb (Epidemiologist in the Department of Reproductive Health and Research at the World Health Organization), and a patient representative.
This work represents a novel tool that can evaluate public health and economic benefits of current services and serve as a blueprint for any new strategies or policy changes aimed to improve herpes zoster immunization rates. This project is supported by ALSAM Foundation.
Dr. Chaiyakunapruk would like to invite you to discuss ideas in support of this health economics research project. If you would like to comment or ask questions, please reach out to Dr. Chaiyakunapruk at Nathorn.Chaiyakunapruk@utah.edu or his fellow, Dr. Alex Watanabe, at Alexandre.Watanabe@pharm.utah.edu.