Data-driven Collaborative of Informatics, Pharmacoepidemiology, & Health Economics Researchers (DeCIPHER)
DeCIPHER conducts state-of-the-art pharmacoepidemiology and pharmacoeconomics research that leverages causal inference and biomedical informatics tools. DeCIPHER has generated more than $4.5 million through the School of Pharmacy since its inception in 2011. Additionally, DeCIPHER has generated more than $7 million through the School of Medicine and the Department of Veterans Affairs. In that short amount of time, we have produced over 50 peer-reviewed publications and presented 70 abstracts at national and international meetings covering epidemiological research questions into osteoporosis, HIV, hepatitis C, other chronic conditions, and healthcare decision-making, utilization, and costs. Specifically:
We develop natural language processing (NLP) pipelines to extract clinical data from narrative records.
Our focus on developing informatics tools allows us to efficiently transform data to fit specific epidemiologic designs and statistical analyses, thereby allowing us to rapidly answer research questions.
We are a team with over 100 established partners comprising epidemiologists, economists, clinicians, informaticians, statisticians, analysts, academic writers, and study coordinators.
Our infrastructure allows us to be flexible and highly responsive to deadlines with the goal of building reliable, sustainable, efficient long-term relationships. We have extensive experience working with national VA data sources and function at the core of VA data-centralization initiatives.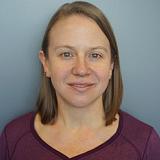 Kristin Knippenberg, MFA
Office Address:
Utah Medicaid Drug Regimen Review Center
L. S. Skaggs Research Institute
Salt Lake City, UT 84112
Phone: (801) 587-9365
Fax: (801) 587-7923
Email